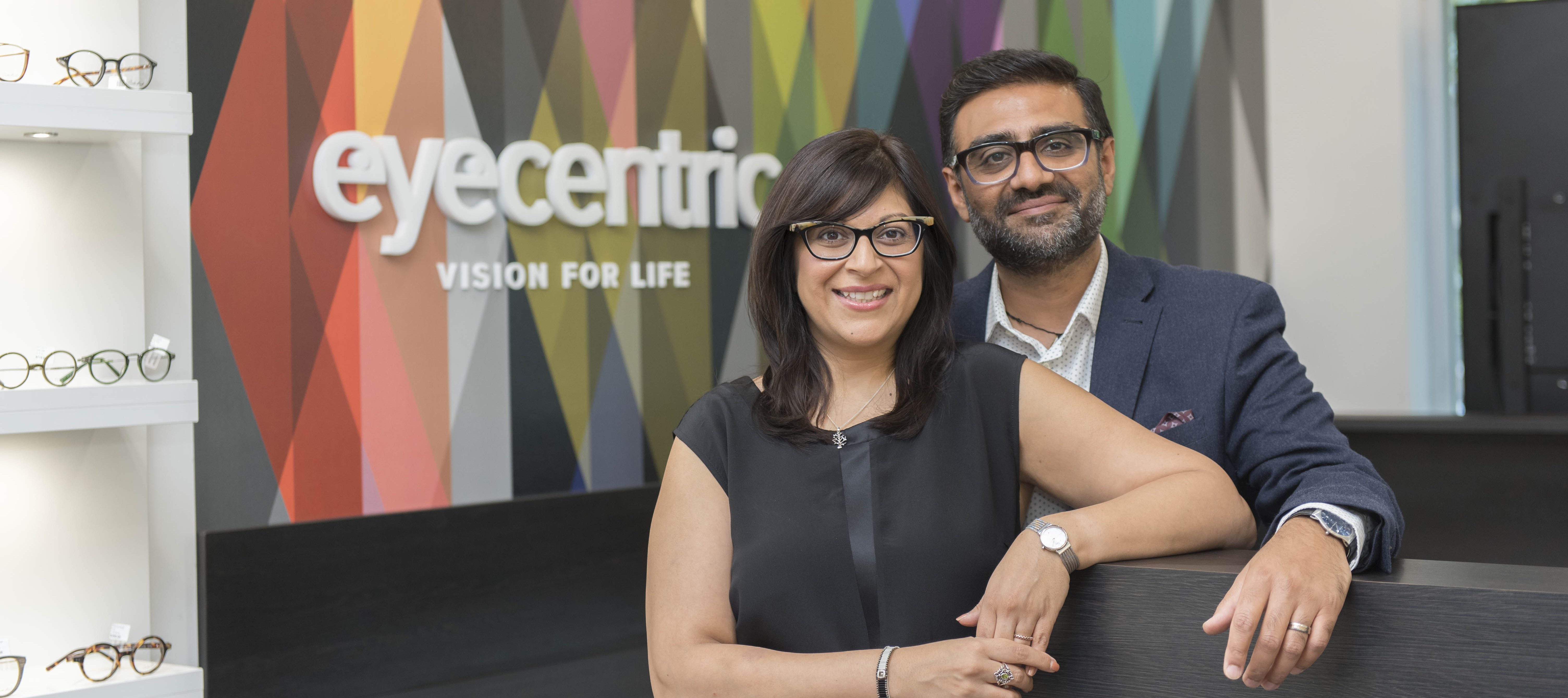 ProVision support from the ground up
When optometrist Ash Vadher and his wife, optical dispenser Ashita, opened Eyecentric in Manuka last September, they were eager to experience the freedom of choosing services and products in independent practice.
They had worked in corporate optometry both in the United Kingdom, which they left 12 years ago, and in Australia. The main advice they received from other optometrists was to join ProVision as it would give them a boost in their first independent practice. 'I hadn't heard of ProVision until I saw them at ODMA Fair, and really didn't understand what they did until I spoke to other optometrists,' Mrs Vadher said.
'They went on to explain what ProVision do. We decided it's good to have someone who knows more than you to be on your side,' she said. 'It enables us to do this in a more tried and tested way, a more efficient way, but also it puts us in touch with other optometrists who are like us.'
Eyecentric is close to Canberra's parliamentary triangle and is one of three independent practices in the suburb. Its team of four includes a frame stylist and an optical assistant. Mrs Vadher says the practice caters for people who are in their 30s, retirees, professionals and high-income earners, attracted to the bespoke service Eyecentric provides.
'The demographic is really discerning; they want fantastic service and want to spend time on their purchase. The feedback we're getting from people is they are thrilled with the service we provide. I've known people to come back three or four times before they make a decision, and that's completely fine. We actually prefer that, rather than them rushing into a decision that they are not happy with.'
The wide price range of ProVision's products appealed to Mr and Mrs Vadher, giving them a chance to use high-end suppliers to cater for their patients.
'The good thing about ProVision is that their supply ranges from budget frames right to the top end, so it gives members the opportunity to pick and choose the suppliers within either realm,' Mrs Vadher said. As Eyecentric grows, the couple hopes to take advantage of the staff training provided by ProVision.
'I know the resources are vast, but the thing that I'll want to use as we grow is their training facilities,' Mrs Vadher said. 'We do a lot of training in house, but training is always very expensive, so now it's something we've got access to, which is great.'
Mrs Vadher says that if they had known about ProVision earlier, they would have used the group's resources for their practice's fit-out.
'I'd suggest getting ProVision in at ground zero, rather than when we did,' she said. 'While we're really happy with the way our practice is, we probably wouldn't have had to go through all we did to get there. 'Having support from ProVision from the outset would have made a world of difference.'
Originally published by Optometry Australia by Ashleigh McMillan, republished by ProVision with permission.