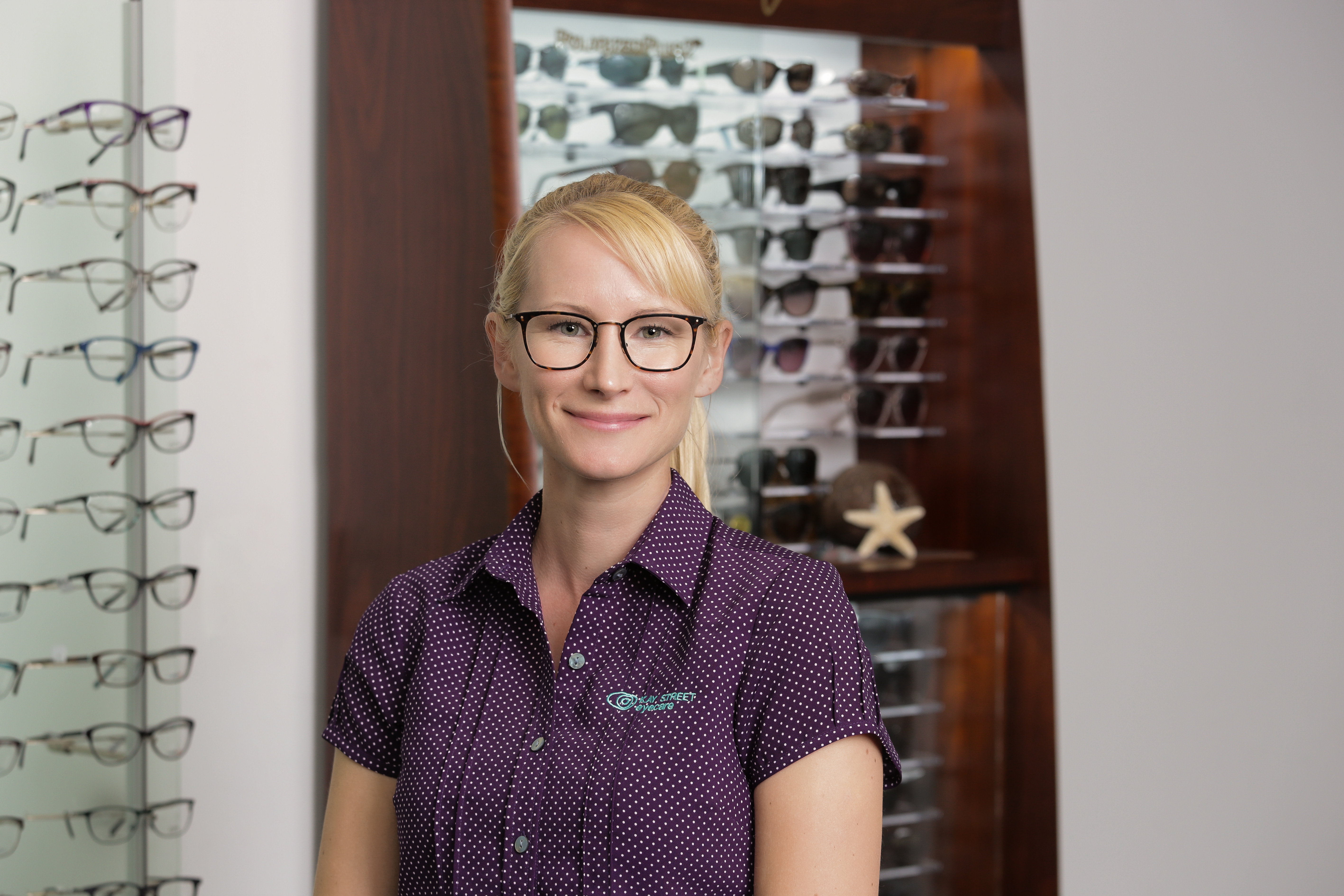 Leah Meulendijks knew before she graduated that she would be in the business of running a practice. Now a multi-practice owner, we talked to her about the journey up to now.
Leah has been a ProVision Member since 2014.
Tell us about your career up until now…
I graduated in 2011. I always wanted to work in independent practice and to work regionally. This is mostly because of the extra patient care that you can provide and being able to deal with a more diverse range of patient problems. From ocular disease to complicated contact lens fits to emergency ocular injuries all in the course of a regular day. I worked in Central Victoria, and spent my first two and a half years working in a behavioural and general optometry practice.
Another passion of mine is running a business. Before I even graduated, I knew that I wanted my own practice. It was always on the list of things to do, to get the experience and skills as an optometrist, go out on my own and get a practice, and look after the business side of it as well.
What's the scale of what you're running at the moment?
I've got three optometry practices. One of them is a part time practice that does about four days a week of optometry testing and that was the first practice I started with. I purchased this practice in Yarra Junction in July 2014. Because that was only part time, it motivated me to purchase another practice to get more work for myself. I purchased Leongatha Optometrists, previously Jackson & Lawry Optometrists, two and half years later. Two years after that I bought Kay Street Eyecare in Traralgon and I'm now running the three and they keep me pretty busy.
How has ProVision assisted you through the expansion?
Communication was the biggest hurdle I have encountered. When I was working in the one practice it was easy because I was always there, so if any issue came up, the communication would happen instantly. If there were any misunderstandings you could sort it out straight away because you would either overhear the misinterpretation or a question would be raised. When I expanded to owning two practices, that meant being away from the other practice for a period of time, and I would often return and there would be a pile of questions waiting for me such as, what would I do in this situation, and for a time that worked fine, until there were 3 practices and I was spending even less time in them. I began to change the structure by appointing practice managers. I now hold regular meetings, both formal and informal. I make time to go around weekly and check in with all of my staff. I have now  practice managers which has improved communication across the practices and helps convey our brand philosophy and keep our brand image in the minds of our patients consistent across all practices. I have an assistant who ensures effective messaging is delivered, there is a much improved structure for effective communication now.
ProVision has been influential in assisting me to navigate the complexities of multi-practice management. They have helped develop the way many things are done across the businesses and guided me to further empower my team.
I found it very helpful to have the
ProVision education programs
available because they were a very good opportunity to get the team as a whole to attend together. They have worked well as motivation sessions to inspire us on what more we could be doing in our practices and having the team as a whole attend, discussing and listening to the topics being presented, helps everyone get on the same page. It is a very useful tool for change management because you take your whole team on the journey of the change you hope to achieve. The first one that we took the Leongatha team to, and probably the most effective one, was 'My Optom Cares About Me and Understands My Needs'. It was focused on ways that we can improve our patient care by taking more time to ask questions about what they need and approaching their care from a more holistic point of view. It changed the way things are done in that practice.  It empowered the team to offer our patients more options – more services and a wider range of products according to their needs. Doing that training together as a team at the start was really helpful because it gave the team the insight behind what were trying to achieve and the practical to going into the practice and implementing it together.
Would you recommend these educational sessions to other optometrists?
I would. They are most beneficially done as a team. Recently, there was a practice manager training session that I sent all of my practice managers to and the feedback was that the content of the learning was great but you really needed to be there as a team to get the most benefit out of it.
'My Optom Cares About Me and Understands My Needs' was a really helpful session because we all went back to the practice as a team and the staff instantly felt empowered to talk to the patients about things that they wanted and needed and it was no longer just up to the optometrist. They had confidence in knowing that they could do that but also in understanding they had an important role to play in this process.
It made an instant difference. It really had a positive impact and everyone took it up enthusiastically. We all played a part and collectively came up with the answers to applying the session content in the practice. Having the training together gives everyone the insight into why we are doing this. It helps to carry across the vision of what you are trying to achieve and because these training sessions are so well set up and actually very motivating and inspiring, it gives the whole team that bit of a push to want to do it. You don't walk away from it thinking 'that sounds great, but that is nothing we are ever going to do.' You walk away from it knowing, 'that's great, we want to do that, that is fantastic, how can we now help our patients in that way.' That difference in thinking just makes it so much easier to translate it straight into the practice.
Why do you think the relationship with ProVision is influential in assisting you to achieve your business goals?
Graeme has a lot of experience with buying and selling practices, and is a great facilitator in that situation. ProVision has been influential in assisting me to navigate the complexities of multi-practice management. They have helped change the way many things are done across the businesses and guided me to empower my team.
I really like the ProVision model because they are all about helping independents and they're essentially a not for profit which means that at the end of the day, they put everything into helping us and I think you can't go wrong.
When their whole job and everything that they do is about helping you and making your life easier, which is what ProVision is all about, you just know it's going to be a successful relationship, and it is.
Ready to grow your business?
Supporting our members through our extensive range of expertise is a source of great satisfaction for us. Get in touch below to learn how we can support you.